Epicor Kinetic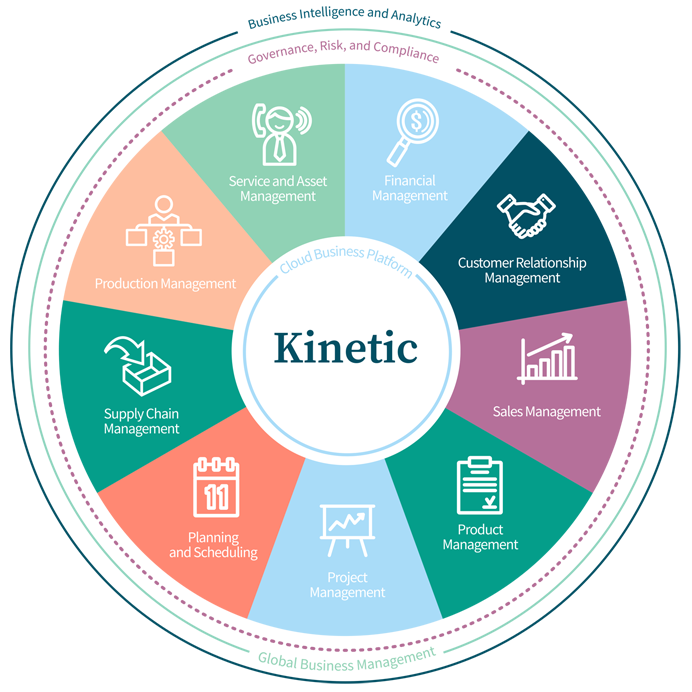 Introducing Epicor's Industry Productivity Solutions
What Epicor Delivers
Epicor provides innovative and highly-focused industry productivity solutions for the automotive, building supply, distribution, manufacturing, retail and care industries. Building on conventional Enterprise Resource Management (ERP) systems, each solution is comprised of a carefully curated suite of software applications and tools that gather, store, manage, and share information from across your business. By bringing together data from your key processes into one comprehensive and constantly updated information system, your Epicor solution provides a 'single point of truth' offering real-time insights for everyone across your organization.
Why It Benefits You
Your Epicor solution delivers a host of benefits that make it essential to your business success. It lets you track and streamline your processes to improve efficiency. It connects your employees to the business and to each other, increasing productivity. It provides powerful reporting tools to identify challenges and drive better decisions. And it enables you to uncover opportunities to expand your capabilities, grow or transform. Epicor accelerates your ambitions, towards a world of better business.
How It's Made for Your Business
Epicor solutions are powered by deep industry knowledge. We know that every business is different, and we work closely with you to fit your specific solution to your unique needs. Simple and quick to deploy, Epicor comes with maximum security as standard, and is designed to help you comply with global regulatory laws and guidelines. Through continuous technical innovation, Epicor are able to adapt and enhance your solution to anticipate and respond to your changing needs. In today's fast-moving environment, Epicor is the essential partner for the world's most essential businesses.
Proud to be a trusted Epicor Partner
Working with an Epicor Partner, you can expect the very best. We're leaders in our field, with unique expertise and a passionate commitment to delivering the industry productivity solution that meets your every need. We help you build a world of better business.